This week's review tackles the audio adaptation of Neil Gaiman's The Sandman! This post contains affiliate links to Bookshop.org, an online bookstore that financially supports local independent bookstores.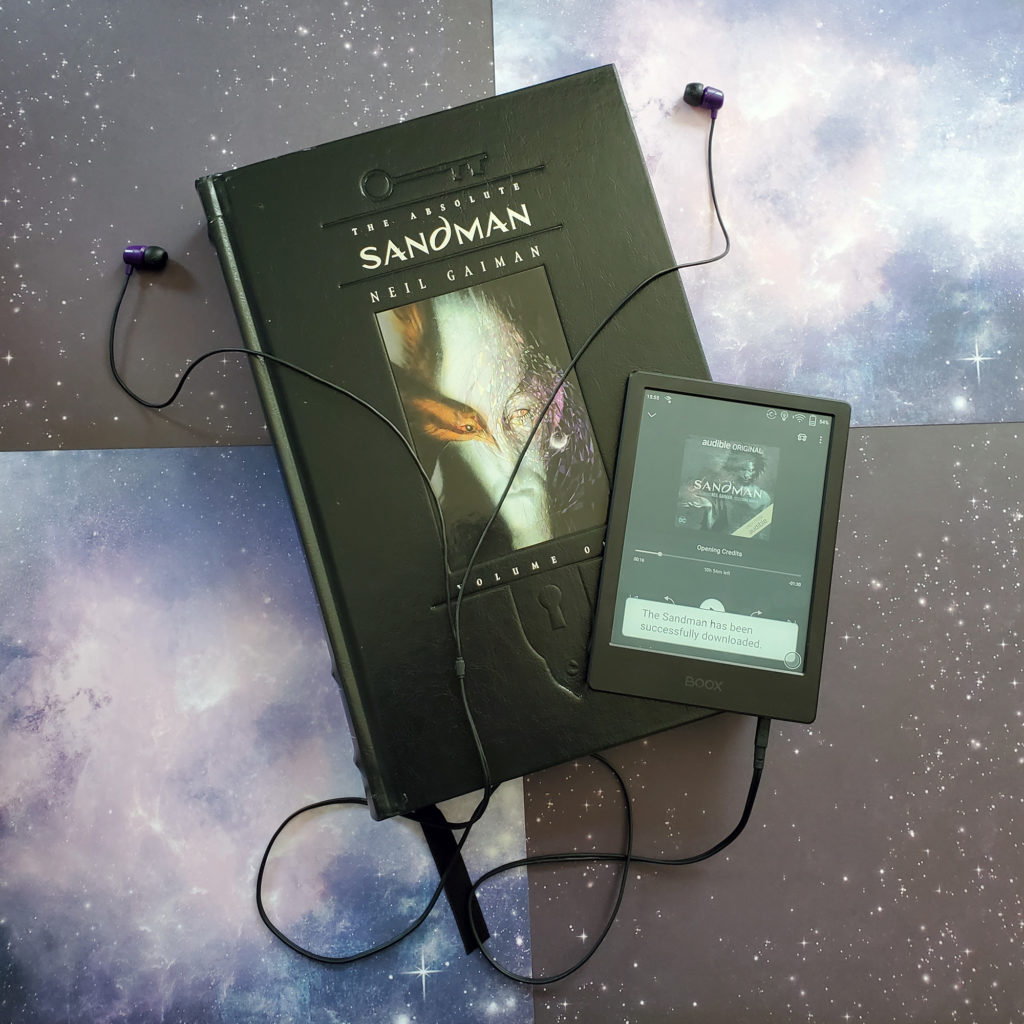 The Book Witch's One Sentence Review
Audible's audio adaption of The Sandman by Neil Gaiman is a brilliantly acted immersive take on the classic comic series that will please longtime fans and help bring this amazing story to a whole new audience.
---
The Sandman Audio Adaptation Review
How do you create an audio drama from a graphic novel?
Dirk Maggs makes it look pitifully easy in his full-cast audio adaptation of Neil Gaiman's The Sandman that more than does justice to the original comic.
As a long-time fan of Gaiman's groundbreaking series, I was a tad apprehensive about how good an audiobook adaptation would be. Not because I'm a format purist or don't like audio, but because I've been burned too many times by bad, cash-grabby comic book adaptations.
Sandman is important to me, and I was afraid the audiobook would be bad.
I needn't have worried. While the audiobook version of Sandman is, of course, different in a number of ways from the comic, it stays true to the story while adding something new at the same time. The brilliant voice acting adds tone and depth to each character, and the added narration (performed by Neil Gaiman himself), fills in most of the gaps caused by the lack of visual material.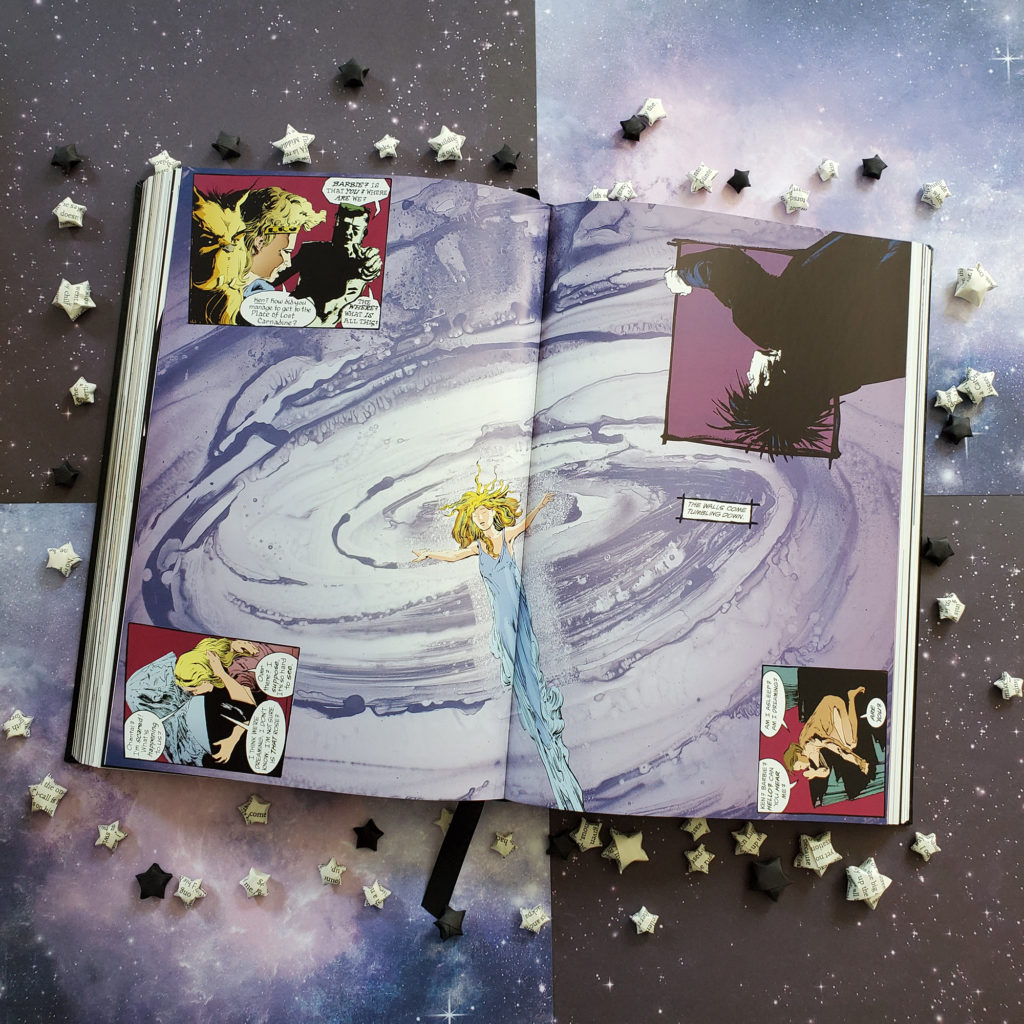 It's the same story, same impact, just in a different format. I, for one, am thrilled that one of my all-time favorite books is now available to more folks.
Those who've read and enjoyed the comic will appreciate the nuance this new telling adds to the story, while those who've never read the comic are in for an auditory and narrative treat.
---
This Adaptation Has Beautiful Voice Acting and Excellent Production
James McAvoy's Morpheus is brooding and dark against Kat Denning's chipper Death, while Justin Vivian Bond's Desire is perfectly petulant and petty. I didn't love Andy Serkis as Matthew the raven at first, but he grew on me and I'm curious to see how he'll handle certain pivotal scenes in later books.
In short, the voice cast is spot on, and everyone nails their characters. It was insanely easy to close my eyes and feel like I was in the Dreaming.
This first volume of the audio drama (parts 2 and 3 have already been greenlit by Audible) covers the first three trade collections of the comic: Preludes & Nocturnes, The Doll's House, and Dream Country. It maintains the original "chapter" breaks of the individual issues, and these are announced verbally, echoing the print reading experience.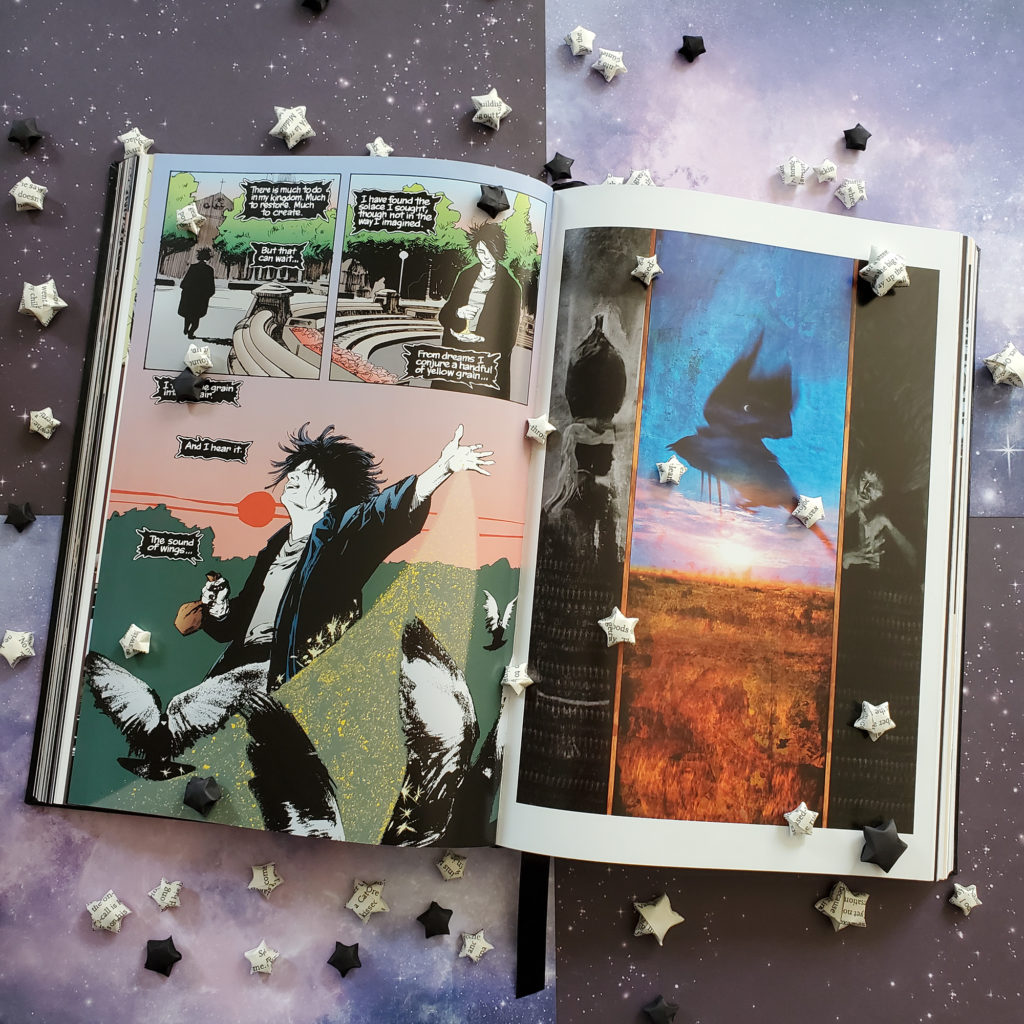 I was particularly curious how they would handle A Midsummer Night's Dream, a storyline at the end of Dream Country in which Morpheus brings the fae to England to watch a play he commissioned from a young William Shakespeare. It's one of the most visually complex issues of the comic, and relies heavily on paneling and framing to tell a story-within-the-story. It also has a rather large cast of characters: Shakespeare, his son, his players, Titania, Oberon, Puck, and a whole menagerie of fae who serve as the peanut gallery throughout the issue.
For the audio, they use sound layering and background/foreground speaking to give the same impression and experience, and it worked really well. Again, Gaiman's narration also helps here, but I thought Maggs did an excellent job recreating the complex visual effects in this format.
---
Itty Bitty Nitpicks
The only places I thought the audio drama failed to live up to the comic were a few scenes with The Corinthian. I loved Riz Ahmed's portrayal of this eye-eating nightmare, but the narration on a few of his scenes left me with less than a full picture of what was happening with his victims. I also don't think the horror of seeing mouths for eyes the first time Corninthian takes off his glasses translates quite as well to audio, but again, this is a minor complaint.
Unfortunately, The Sandman audio drama is an Audible exclusive, but you can purchase an MP3 CD through Bookshop. Generally speaking, I don't like purchasing books through Amazon, and the same goes for audio. 
Amazon isn't going away anytime soon, though, so I've had to make a sort of peace with it, especially in cases like this where there's no other option. Still, I encourage audiobook readers to check out Libro.fm, an alternative that directly supports independent bookstores!
And if you'd like to purchase any of The Sandman graphic novels, you can always do so through your favorite indie bookstore or Bookshop.org! I've compiled a handy list of the series and its main offshoots over at my Bookshop storefront.
---
---