May the 4th Be with You! While Star Wars began as a film franchise with a  novelization, one spin off novel, and a cheesy comic book series, today there are hundreds of Star Wars novels. This can make it a little intimidating for new fans to jump in and start enjoying these books, so I've put together this list of 15 of the most essential Star Wars stories that will deepen your understanding of the 9-film Skywalker Saga! They're arranged in rough chronological order, but you don't need to read them that way. You can dip in and out of these with no more background than having watched the films. Remember: Read, and the Force is with you!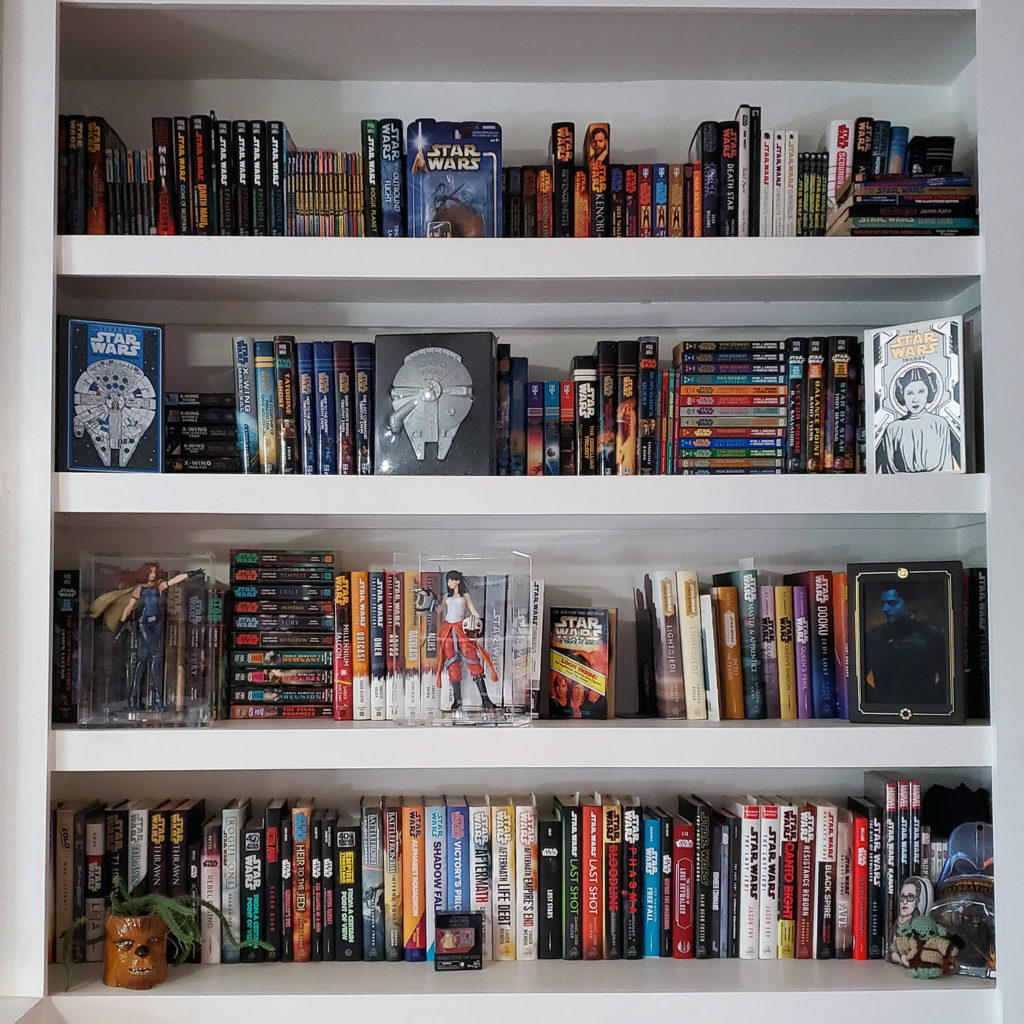 ---
The Prequel Era
Master and Apprentice by Claudia Gray
Why it's essential: In the same way Dooku: Jedi Lost gives us the background of one of the Prequel Trilogy's main villains, Claudia Gray's Master and Apprentice draws back the curtain on the pre-Phantom Menace relationship between Qui-Gon Jinn and his padawan learner, Obi-Wan Kenobi. Although we see them as a unified, harmonious pair in the Phantom Menace, their relationship wasn't always so solid, and Master and Apprentice dives into that. Read this book, and then watch Qui-Gon and Obi-Wan's duel with Darth Maul and try not to cry.
---
Dooku: Jedi Lost by Cavan Scott
Why it's essential: Count Dooku, the leader of the Separatists, was Qui-Gon Jinn's first Jedi Master before he fell to the dark side and became Darth Tyrannus. Set around the time of Attack of the Clones as Dooku searches for an apprentice, it flashes back into the past to show his gradual fall to the dark. Dooku: Jedi Lost provides rich background for Christopher Lee's haughty Sith Lord and makes his duels with Obi-Wan and Anakin in the films even more impactful.
Note: This book was produced as a full-cast audio drama, though it is also available in script form (linked here).
---
Queen's Shadow by E. K. Johnston
Why it's essential: Queen's Shadow takes place between The Phantom Menace and Attack of the Clones, and details Padme's transition from queen of Naboo to senator. For those of us who were fascinated with Padme's handmaidens in Phantom Menace, Queen's Shadow gives us our first opportunity to really get to know them. This book helps smooth the transition between the two films as far as Padme is concerned, and adds significant depth to her character.
---
The Original Trilogy Era
The Rise of the Empire
Why it's essential: This book actually contains two novels: A New Dawn by John Jackson Miller and Tarkin by James Luceno. It also features three previously unavailable short stories not published anywhere else. Both novels take place between Revenge of the Sith and A New Hope, and both deal with, as the title suggests, the Empire's rise to power. A New Dawn takes the perspective of the rising Rebellion, while Tarkin covers the period from the bad guy's perspective.
---
Thrawn by Timothy Zahn
Why it's essential: If you're not a fan of the Star Wars Legends novels from the '90s or the animated show Rebels, you may not know who Grand Admiral Thrawn is. But while he may not have appeared in any of the Skywalker films, he is a fan favorite character and one of the most interesting in the Expanded Universe. This book is the first in a trilogy that shows Thrawn's quick ascent through the Empire's military ranks. The reason I've included it on this list is because it shows us the inner workings of the Imperial Academy and the political underpinnings and tensions of the military
---
Leia, Princess of Alderaan by Claudia Gray
Why it's essential: This book's inclusion on the list should be self explanatory, but let me explain how much I love it anyway! Leia, Princess of Alderaan takes place before A New Hope and gives a glimpse into Leia's life before the mission where she rescues the Death Star plans that results in Alderaan's destruction. We also get to meet a younger Amilyn Holdo. This book really shows us what Leia is made of, and is a beautiful addition to her story arc.
---
Ahsoka by E. K. Johnston
Why it's essential: You may be familiar with Ahsoka Tano from the second season of The Mandalorian or The Clone Wars animated series. This book delves into the time between the end of the Rebels animated series and A New Hope. Similarly to A New Dawn, Ahsoka deals with the beginnings of the Rebellion and the Inquisitors (Dark Side users who hunt down Jedi and other Force users). It also gives us insight into how the few Jedi who weren't killed after Order 66 survived—or didn't.
---
From A Certain Point of View
Why it's essential: This collection of forty short stories by various authors covers the events of Star Wars: A New Hope from the perspectives of the characters we only see briefly, or who are only implied (like the citizens of Alderaan). From the dianoga in the trash compactor to one of the Jawas on the Sandcrawler to the denizens of the Mos Eisley Cantina to Imperial officers aboard the Death Star, this book gives us a much bigger glimpse into the world around our heroes. One caveat though: If stories ever make you emotional, get ready to cry a couple times at least. Some of these tales are real heartbreakers!
---
From A Certain Point of View: The Empire Strikes Back
Why it's essential: From A Certain Point of View: The Empire Strikes Back gives us the same 40-story treatment as the first From a Certain Point of View collection, only this time we dive into The Empire Strikes Back! And also like its predecessor, have tissues on hand, because of few these would make even a Sith Lord cry.
---
Aftermath by Chuck Wendig
Why it's essential: Perhaps the most controversial Star Wars book to have ever been released, I'm including Aftermath because it shines a light on the period immediately following the death of the Emperor on the second Death Star. The book sparked protest when it was released for its inclusion of LGBTQ characters, but many fans have also found Chuck Wendig's writing style difficult to get into. The people who were opposed to the inclusion of gay people can find another fandom, but the concerns over the writing style are valid. I enjoyed this book, and think listening to the audio version mitigates some of the choppiness of the prose.
---
The Sequel Era
Last Shot by Daniel Jose Older
Why it's essential: Han. Lando. Chewbacca. Really, what more do I need to say? Last Shot is a fun action adventure novel featuring our three favorite scoundrels. The main storyline of the book takes place after Return of the Jedi, but it includes flashbacks to earlier. This is also one of the few novels where we get to see Han be a father, although that's not the focus of the novel. If you're looking for a fun read, look no further than Last Shot!
---
Bloodline by Claudia Gray
Why it's essential: Bloodline features Leia as the main character and lets us get to know the New Republic while it hints at the rise of the First Order. This is one of my favorite Star Wars novels, not only because it's just so well-written and engaging, but because it gives us a rare opportunity to see Leia's flaws. But rather than making me like her any less, the way she reacts to her mistakes and learns from them makes me love her even more. Especially for those who don't understand how the New Republic could have failed so spectacularly, this book provides ample insight.
---
Phasma by Delilah Dawson
Why it's essential: If, like me, you love mysterious villains, you'll love Phasma! I also love a novel with a frame narrative, and this one is excellent. Resistance spy Vi Moradi was captured by the First Order after a long mission researching Captain Phasma, and uses her captor's rivalry with Phasma against him. As a prisoner, she tells Phasma's origin story. This book also sets up Black Spire, which is essential reading if you ever plan to visit Galaxy's Edge.
---
Resistance Reborn by Rebecca Roanhorse
Why it's essential: Resistance Reborn bridges the gap between The Last Jedi and The Rise of Skywalker. We see the Resistance rebuilding itself and gathering supplies and allies. I read this book before seeing The Rise of Skywalker in theaters, and it definitely made the experience richer. Fans of Wedge Antilles (me me me!) will also appreciate how much screen time he gets. And our boy Poe Dameron, who messes up big time in TLJ, has time to do a lot of soul-searching and growing in this novel.
---
As a final note, I'll say it was really difficult to choose only 15 books. I tried to make the list shorter, but I just couldn't do it! I had to leave off some of my favorites, but I do believe there's a Star Wars novel perfect for every fan, and I hope this list helps you find yours!
If you're more into the Dark Side, be sure to check out my Revenge of the 5th: Star Wars Novels about the Dark Side list on Bookshop.org! This list includes both canon and Legends novels.
What are your favorite Star Wars novels? Let me know in the comments or on Instagram or Twitter @bookwitchblog!