A year into the COVID-19 pandemic may seem like the worst time to write a booklist featuring novels and comics about plagues and viral outbreaks.
For most of us, it's been over a year since the world shut down and our lives changed dramatically. We've been facing constant upheaval, uncertainty, fear, and a barrage of information and misinformation.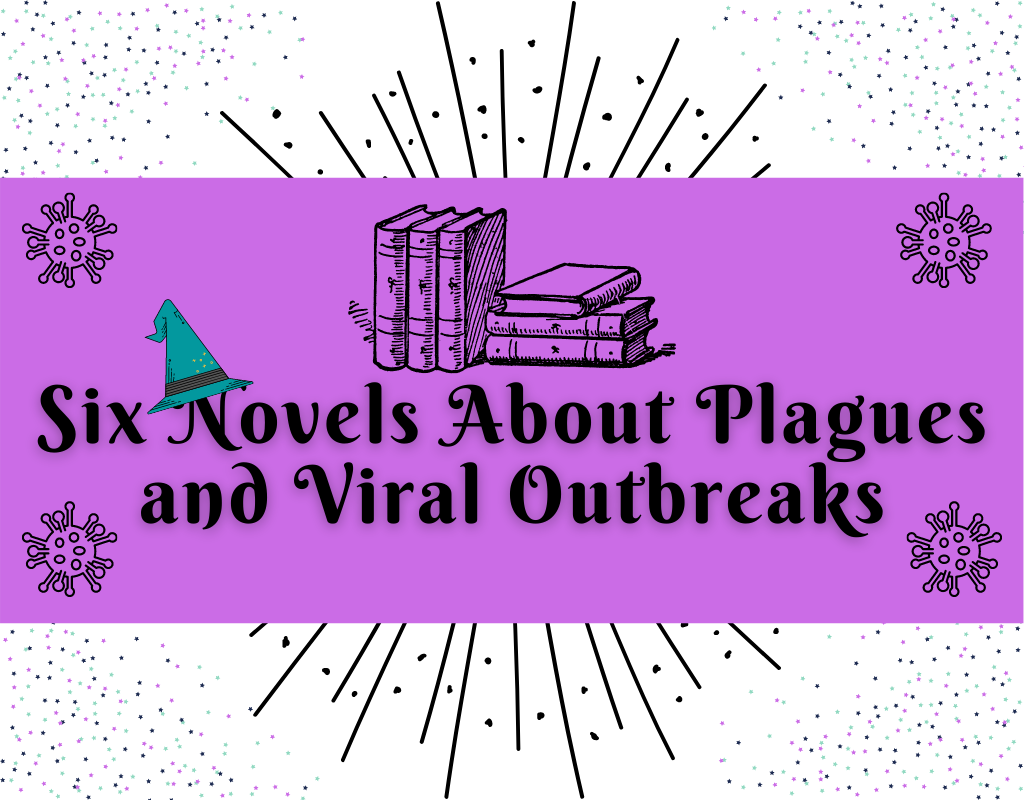 Many of us are dealing with pandemic fatigue: We're tired of isolation, restrictions, and ongoing disruptions and uncertainty. Our energy reserves are long depleted.
Which is why, now, more than ever, I find myself turning to stories about pandemics and plagues.
In March 2020, I wondered if COVID would wipe out global infrastructure the way it did in Station Eleven. I wondered if the pandemic would cause civil unrest on the scale it did in Y: The Last Man. I even let myself wonder if humanity would die out like it does in Oryx and Crake.
Of course, while this global outbreak has caused major disruptions in basic infrastructure, civil unrest, and millions of deaths, we've seen nothing so terminal as what's depicted in those stories. In a way, that's comforting to me. These characters have survived, and so have I.
Most of the books I recommend here have hopeful—if not happy—endings, which can also help when things feel chaotic and difficult, especially now at the one-year mark as we're starting to see some hope with vaccine rollouts.
If you feel like reading about fictional pandemics hits too close to home, I also created a booklist of fun speculative novels to read on the beach—or anywhere!
Six novels about plagues and viral outbreaks
Y: The Last Man by Brian K. Vaughan and Pia Guerra
A mysterious virus kills every mammal with a Y chromosome. Human, animal, they're all dead. Except for Yorick Brown and his pet monkey, Ampersand. As the last man alive in a world left devastated by the loss of half its population, Yorick is pursued by scientists who want to study him and bands of "Amazons" who think the world is better off without men.
Like many post-apocalyptic stories, Y: The Last Man explores a "what if" future while commenting on the present in significant ways. Far from being a story about how women can't survive without men, Y is a story of how women can and do thrive without men. It's also a story about one man—now a metaphor for all men—being forced to confront his fragile masculinity and, pardon my french, grow the fuck up, all while chaos swirls around him.
The Dreamers by Katherine Thompson Walker
In a sleepy California college town, students go to class and maybe fall in love, a single dad does his best to take care of his daughters, and a couple struggling with new parenthood attempt to navigate their fraught relationship when a mysterious illness descends. The infected fall asleep, and nothing can wake them. They become dehydrated and malnourished without hospital care.
The disease—and panic—spreads, and much like we're seeing with this current pandemic, characters react in different ways. The Dreamers isn't a pandemic novel, as the virus is contained to this one small town. But Katharine Thompson Walker is a master at eliminating the distance between character and reader. It feels just as if we're experiencing the illness along with the town.
Woven throughout the viral outbreak is Walker's exploration of the mysteries of sleep and dreams, which adds another few layers to this book. (I also loved her debut novel, The Age of Miracles, which is a post-apocalyptic climate disaster novel told from the perspective of an eleven-year-old girl.)
The MaddAddam Trilogy by Margaret Atwood
The three books in the MaddAdam trilogy, Oryx and Crake, Year of the Flood, and MaddAddam, chronicle the rise of genetic engineering and the downfall of humanity because of a mysterious plague. Spoiler alert: It all goes back to the hubris of one man and his cult leader status.
I first read Oryx and Crake over a decade ago. I'm still shocked at how often I see an article about "groundbreaking science" that echoes Atwood's predictions. Take lab-grown meat for example. Written with ruthless precision and prescient imagination, the MaddAddam trilogy will have you rethinking the wisdom of genetic engineering and whether or not humanity even deserves to continue on as a species.
Wanderers by Chuck Wendig
Unlike the other novels on this list, Wanderers tackles an epidemic from two sides: those affected and those working to stem the tide and contain the disease. The novel is told through multiple perspectives, including a disgraced CDC epidemiologist and the sister of this new plague's first victim.
Of course, it's not as simple as one unknown disease; there are two new diseases causing havoc across the United States. Wanderers weaves disparate threads together. It reveals how interconnected systems—including political systems—can fail at any point and lead to an uncontrolled outbreak. That makes it incredibly relevant during the COVID-19 pandemic.
If you read Amazon or Goodreads reviews for this book, you may see a lot of one- and two-star reviews that label the book overly "political." But as we are seeing, politics are inseparable from how we react to and deal with epidemics and pandemics. Once again, Chuck Wendig exposes the flaws in the system and reveals how politics ignores science, putting citizens in peril.
The Illness Lesson by Clare Beams
Released on February 4, Clare Beams's debut novel hit shelves just in time for the COVID-19 pandemic. The Illness Lesson is more akin to The Dreamers in tone and scope: it deals with a localized, mysterious illness in a progressive 19th century school for girls. When a mysterious flock of red birds descends on the school, the students begin exhibiting strange symptoms.
Beams explores the oft-overlooked topic of women's illnesses and how the medical establishment and society ignore women's symptoms and pain. Beams's writing is vivid and haunting, and comparisons to Kelly Link and Karen Russell are apt.
Station Eleven by Emily St. John Mandel
Emily St. John Mandel's brilliant debut novel can be read as a terrifyingly possible blueprint for the future after COVID-19. In Station Eleven, a flu pandemic wipes out huge swathes of humanity and causes societal collapse. No more power, no more running vehicles, no more industry, no more government, no more medicine.
Those who survive are forced into a pre-industrial way of life where resources are scarce. But I'm not recommending this novel because I think things are hopeless for us. On the contrary, Station Eleven shows us how people can thrive even in dire circumstances and find ways to rebuild. This book ends on a hopeful note, and also shows how important art is, especially in times of crisis.
I've collected these six novels, along with a few others, into a handy list over at Bookshop.org.
This post contains affiliate links. Purchasing books through Bookshop.org directly supports independent bookstores, and using my affiliate links supports my writing and this website.