This week's review covers Worlds of Light and Darkness: The Best of DreamForge and Space & Time, edited by Angela Yuriko Smith and Scot Noel. As usual, this post contains affiliate links to Bookshop.org, an online bookstore that financially supports independent bookstores.
Worlds of Light and Darkness comes out on May 25, but you can preorder it now.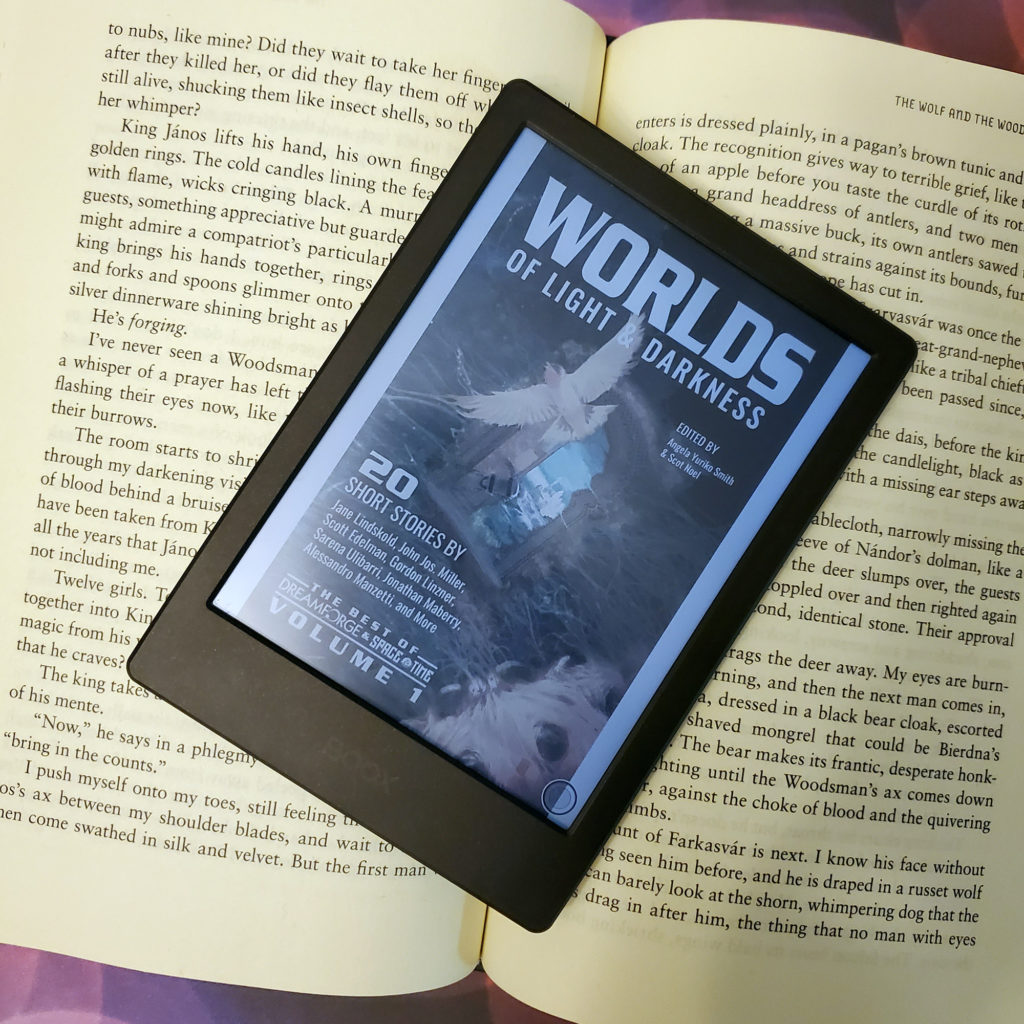 ---
The Book Witch's One Sentence Review
Worlds of Light and Darkness is a wide-ranging collection of insightful speculative fiction from two respected magazines that will introduce readers to a number of lesser-known, but worth knowing, writers across many sub-genres.
---
Overview
I learned of this collection because I used to read submissions for DreamForge, a speculative fiction magazine with a bent toward the hopeful based in Pittsburgh. An advance review copy was available through NetGalley, so I jumped at the chance to be an early reader.
I was also pleased to see that one of the stories I helped select, "A Sip of Pombé" by Gustavo Bondoni, made it into this collection. I might be biased, but it was easily one of my favorite stories in the collection.
While I was familiar with DreamForge, this was my first introduction to fiction from Space & Time. The collection is arranged with ten stories from DreamForge (worlds of light) at the beginning, and ten stories from Space & Time (worlds of darkness) at the end.
Although the selections from DreamForge were noticeably more upbeat overall than those from Space & Time, it would be false to say the Space & Time stories were universally dark or depressing. On the contrary, stories across the collection showed a range of themes, tackled the full depth of human emotions, dealt with difficult topics, and ended on mostly positive notes.
"Mostly" being the key word, as there were a few stories that ended on darker notes, including "Humani" by John Palisano, "Joy of Life" by Alessandro Manzetti, and the collection's final story, "A Glass Darkly" by Ian Rogers.
Overall, I think the editors did a good job of balancing the uplifting with grim possibilities, and I appreciate that stories ranged from Mars exploration ("A Sip of Pombé") to high-tech heist ("Artifact" by Jonathan Maberry) to modern speculative western ("The Spiral Ranch" by Sarena Ulibarri).
Stand Out Stories
My favorite two stories in the collection were "The Feline, the Witch, and the Universe" by Jennifer Shelby and the aforementioned "A Sip of Pombé" by Gustavo Bondoni.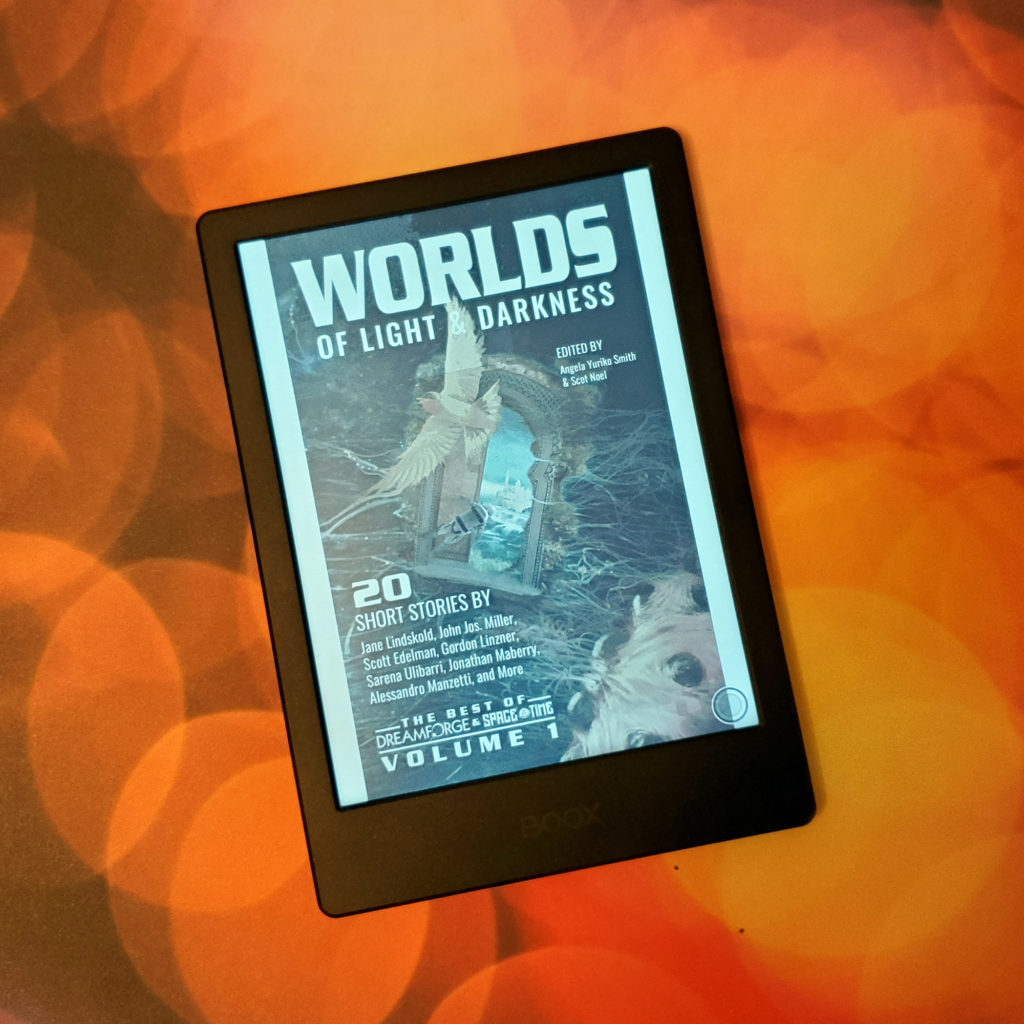 "The Feline, the Witch, and the Universe" follows a witch as she rides her bike through space in search of her missing familiar—a cat who is mad at her because they didn't take a vacation. Although this story appeared in Space & Time, it was actually quite lighthearted. I enjoyed the world building and the implied tension between magic and science. Plus, the image of a witch riding her magical bike through the cosmos just tickled me.
"A Sip of Pombé" takes place in a near-ish future where various countries have begun setting up settlements on Mars. Unbeknownst to the rest of the world, Uganda develops its own space program and launches its own Mars mission in secret. The story addresses nationalism and, more importantly, various factions' ability to rise above nationalism in the name of scientific progress and humanity at large.
Another stand out story for me was Austin Gragg's "Collecting Violet:" a cautionary tale about ecological destruction disguised as a touching account of the tenderness of Death. It was beautifully written, and featured a talking corvid, something I can't resist.
I also really enjoyed the concept of a vertical, indoor ranch in Sarena Ulibarri's "The Spiral Ranch," and the whimsical magical bookshop in the opening story, "Answered Prayers" by Scott Edelman.
---
An Unfortunate Turn of Phrase
Of course, the wide range of sub-genres and stories included in this collection meant a few didn't connect with me—and that's okay. I can't say I disliked any of the stories, although the way Alessandro Manzetti describes a woman in "Joy of Life" did have me cringing.
The line in question was "The thing that is moving is a human female, alive. The reptile senses her ovaries rotating in the estrogen broth."

I know this is written from the perspective of a sentient lizard that may or may not fully understand human anatomy, if your ovary is rotated, it's a medical emergency. The author could have opted for any number of verbs, like "hummed" or "vibrated", but he went with the anatomically inaccurate and impossible "rotating."
Despite that unfortunate line, Worlds of Light and Darkness is a strong collection that highlights the diversity of genres and ideas percolating in the galaxy of speculative fiction, and is worth picking up.
---
---
Who are some of your favorite speculative short story authors? Let me know in the comments or on Instagram or Twitter @bookwitchblog!